As a student focusing on the Sustainable Horticultural Production option at Oregon State University, you will gain the skills and knowledge necessary to manage integrated and organic fruit, berry, vegetable, nursery and/or greenhouse production systems. You will gain knowledge and experience in integrated pest management, plant propagation, plant nutrition, soil science, ecology, economics and business.
Recent graduates who have focused on Sustainable Horticultural Production have become plant breeders, started small farms, worked as field scouts and crop advisors, managed retail gardens and nurseries, and gone to graduate school.
Active Learning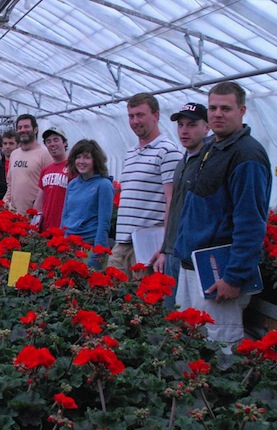 As a student studying Sustainable Horticultural Production, you'll spend time in our greenhouses and out in the field, studying the best production methods. The Department of Horticulture encourages students to get out of the classroom and take a hands-on approach to learning so that they become proficient in the knowledge and skills they need to succeed in their horticultural career.
Our Locations and Facilities
Organic Agriculture Program
Research Farms
Nursery, Greenhouse, and Christmas Trees
Oregon Vegetables

Internship Process and Requirements
Research/Thesis Process and Requirements
Learn More
Next Steps and Resources for Beginning Farmers
Sustainable Food Jobs
The National Sustainable Agriculture Information Service